Refinancing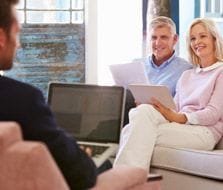 Gone are the days when you took out a loan with your own bank and stayed with them until your home was completely paid off. With so many lenders and loan options available today, it makes sense to have regular home loan health checks to see where you're at and work out whether there is a better option for you.
If you've had your current home loan for 3 years or more, it's possible that it no longer offers the best deal for you or is missing some facilities that would greatly benefit where you are in your life now.
We can look at your goals and work out a solution tailored to your unique situation and requirements. This could enable you to buy an investment property or clear some other debts to improve your cash flow and ease the financial stress of having several debt repayments happening at diferent times during the month.
Click here to read Mr & Mrs G's case study!